---
Home HISTORY Directions Our Team Towing Services Thompson Motorsports Contact Us
---
The History of TMS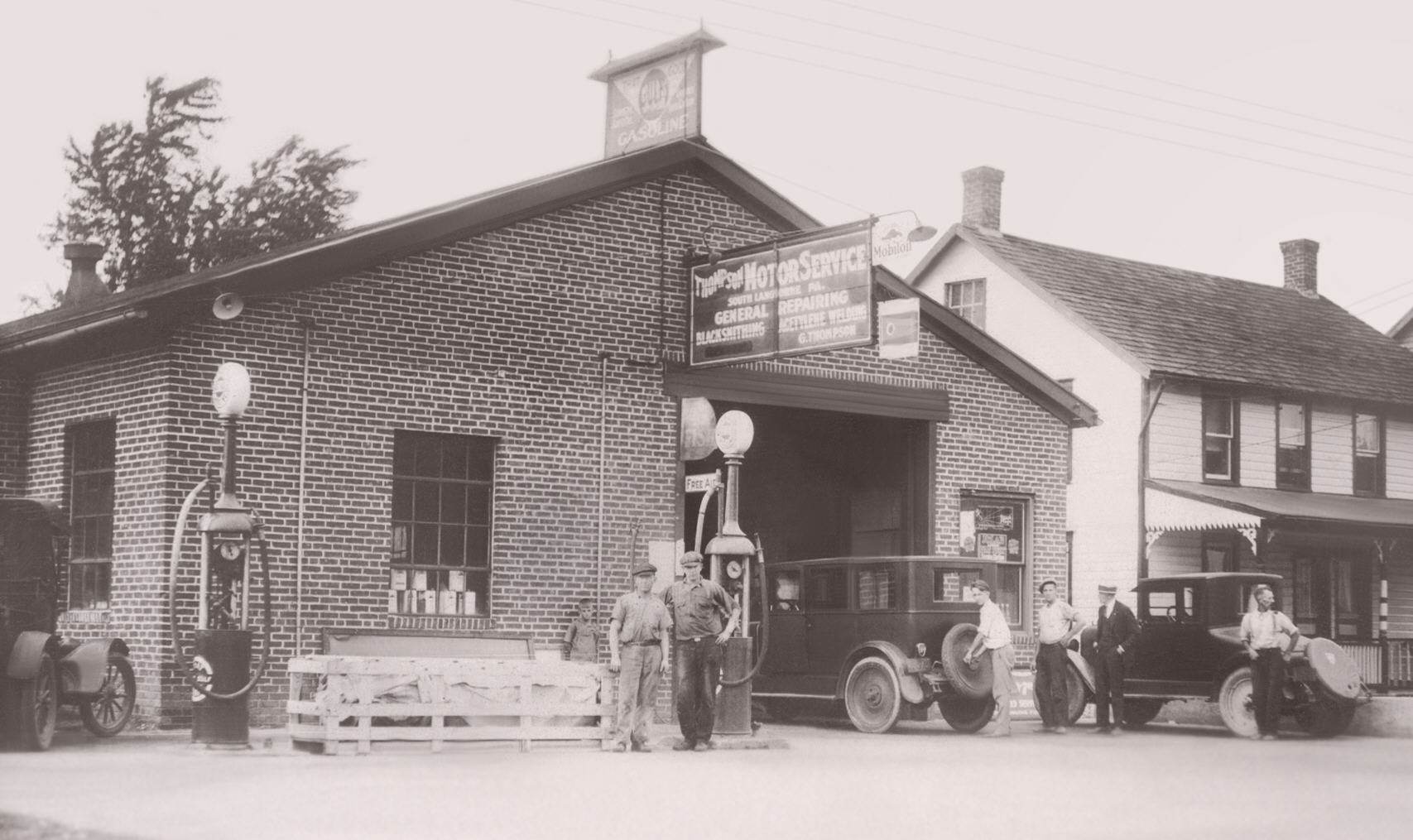 TMS in the early 1920's
This is a photo of the original partners in the business George Thompson and Guy Lawhead. Look closely and you can see that the sign has been recently changed from L&T Motor Service to Thompson Motor Service and that now G. Thompson is the only name listed. Check out the vintage gas pumps and vehicles of the 1920's. Also notice that "Blacksmithing" was still popular enough to warrant a place on the sign!

"85 Years of Tradition and Commitment"
The story begins in August of 1921 in the sleepy little village now known as Penndel where friends George B. Thompson and Guy Lawhead decided to go into the auto repair business together. The original 59 X 70 building was built on a piece of land owned by Lawhead and L&T Motor Service began operations as an auto repair shop, gas station, and blacksmithing establishment. It was located on Route #1 in South Langhorne and was the only place to stop and fuel up on the drive between Philadelphia, PA and Trenton, NJ. Cars were becoming so popular that folks were purchasing them right and left. Back in 1921 a new car cost about $420.00 and a 2-ton Pierce Arrow truck could be purchased for $3,700.00. Gasoline cost a whopping $0.11 per gallon! The dial telephone had just been introduced, the first Miss America Pageant had just been held, and things were looking good for the American economy.
In less than one year's time Guy Lawhead would retire and George Thompson would become sole owner of the fledgling business, changing the name to Thompson Motor Service. George was committed to honesty, hard work, and taking care of his customers. Thompson was on call 24 hours a day, towing the vehicles when they broke down. Before the depression hit the business did well, but cut backs during that lean period saw Thompson downsize to employ just himself and one mechanic. He managed to persevere through the bad times and build a solid business for his familyís future.
Georgeís first son Bob was born in 1924 and out of high school Bob would work for his father as a mechanic. Second born son George pursued a different career path and moved to South Jersey. WWII forced Bob out of the picture for a few years while he served his country. In 1948 after Bob returned home and got married, his interest in the business peaked. An addition was built which included more bays and indoor plumbing. Thompson Motor Serviceís reputation was a good one and the business continued to flourish.
Health problems forced George to retire to Florida in the 1960ís and Bob took over the daily operations of the business. It was at this time that Bobís wife Mary began to help out with the bookkeeping. Bob and Mary had three sons, all of whom worked at the shop during their high school years.
While working at Thompson Motor Service throughout high school, oldest son Bruce, decided he had an interest in the family business. Attending Spring Garden Institute and graduating as a Diesel Mechanic in 1971, Bruce became the third generation to carry on the Thompson family tradition. A second addition to the building for trucks was built as growth permitted and became Bruceís primary focus. Bob and Bruce worked well together for several years, growing the business through the 70's and 80's.
In 1986 Bobís semi-retirement meant that Bruce would run the daily operations just as Bob had done for his father. In 1993 Bob retired completely and Bruce took over the business. His wife Beverly also began to work part-time in the family operation in the late 80ís. The couple had three children, the oldest son Len also working throughout high school and college as a technician part time starting in 1991.
Len graduated from Penn State in 1998 with a Bachelor's Degree in Business Management and went to work in the corporate world for several years. Len returned to Thompson Motor Service in 2006, and as the fourth generation Len has taken over the role of General Manager. Len's son Michael was born in 2004, but it's possible that he could be the fifth generation Thompson to become involved in the family business!
In 2006 Thompson Motor Service celebrated our 85th year in business with four generations of Thompsons carrying on the traditions started back in 1921. The family owned and operated company is the oldest continuous business in Penndel and one of the oldest in Bucks County. The commitment to customer service that George B. Thompson started so many years ago is still evident today. From George to Bob, from Bruce to Len, the Thompsons have been taking care of their customers for the last 85 years and will continue to do so for years to come.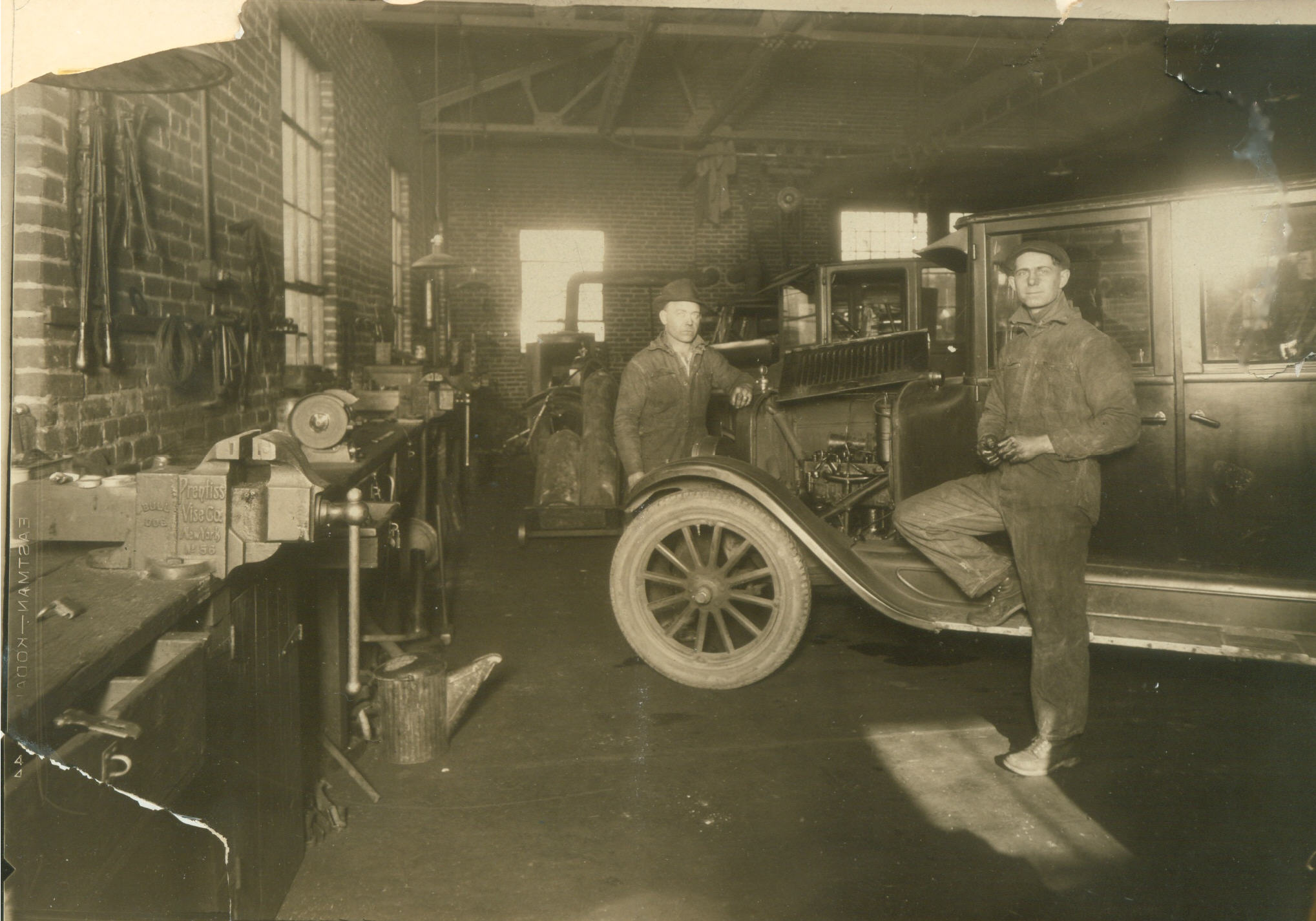 A photo from the 1920's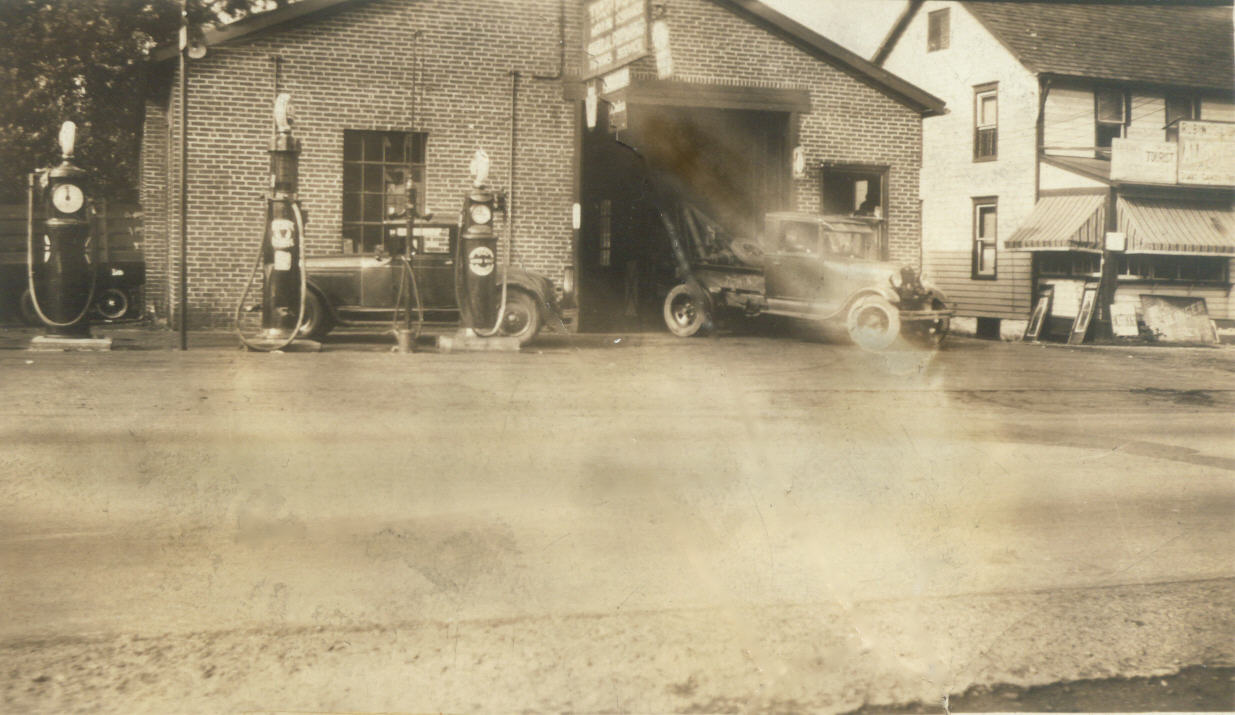 A view of the front of TMS with our first tow-truck in the 1920's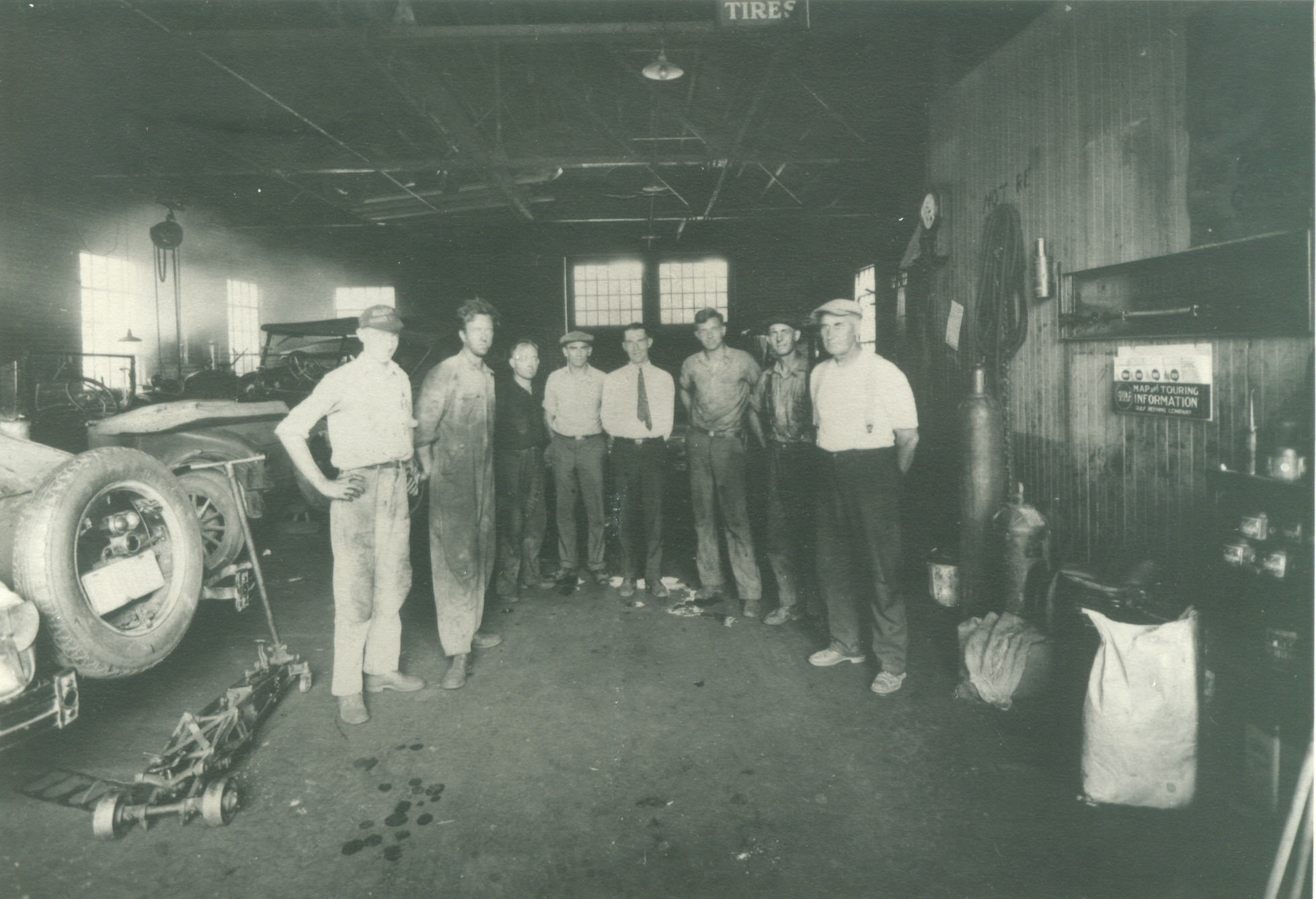 The TMS Team in the mid 1920's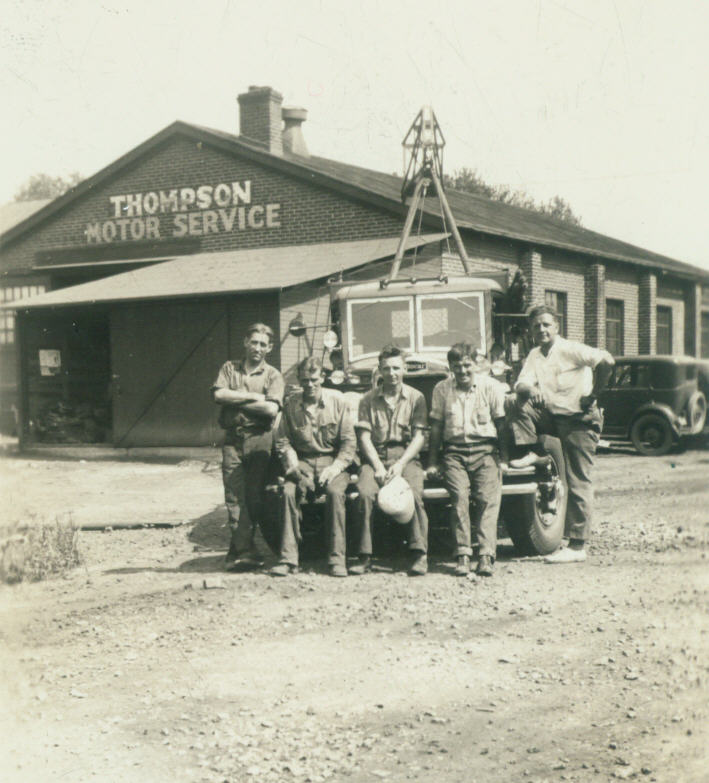 The TMS Team circa 1936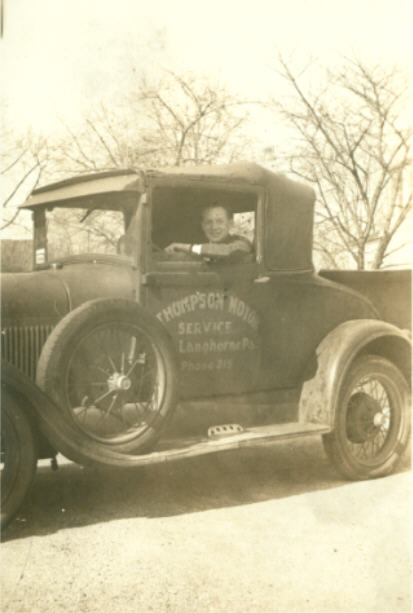 George Thompson in the 1930's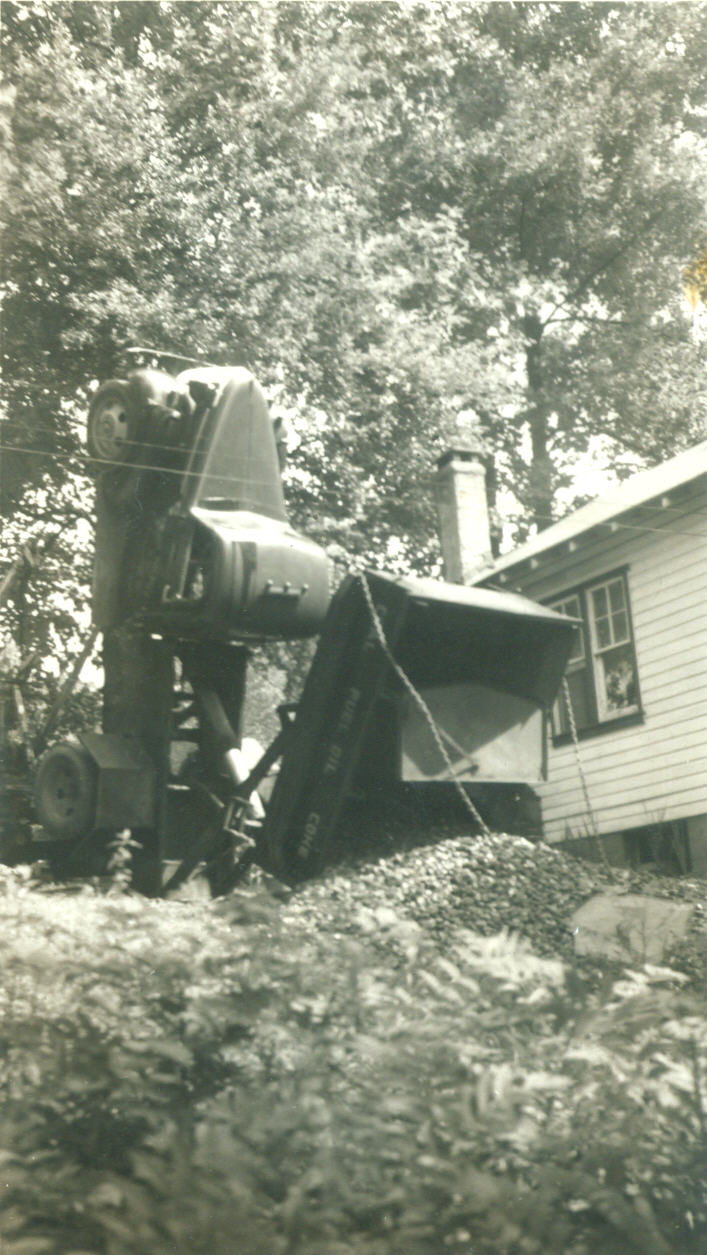 "Ummm, Hello Mr. Thompson...I need to be towed..."
This may have been the strangest towing call that
George ever dealt with!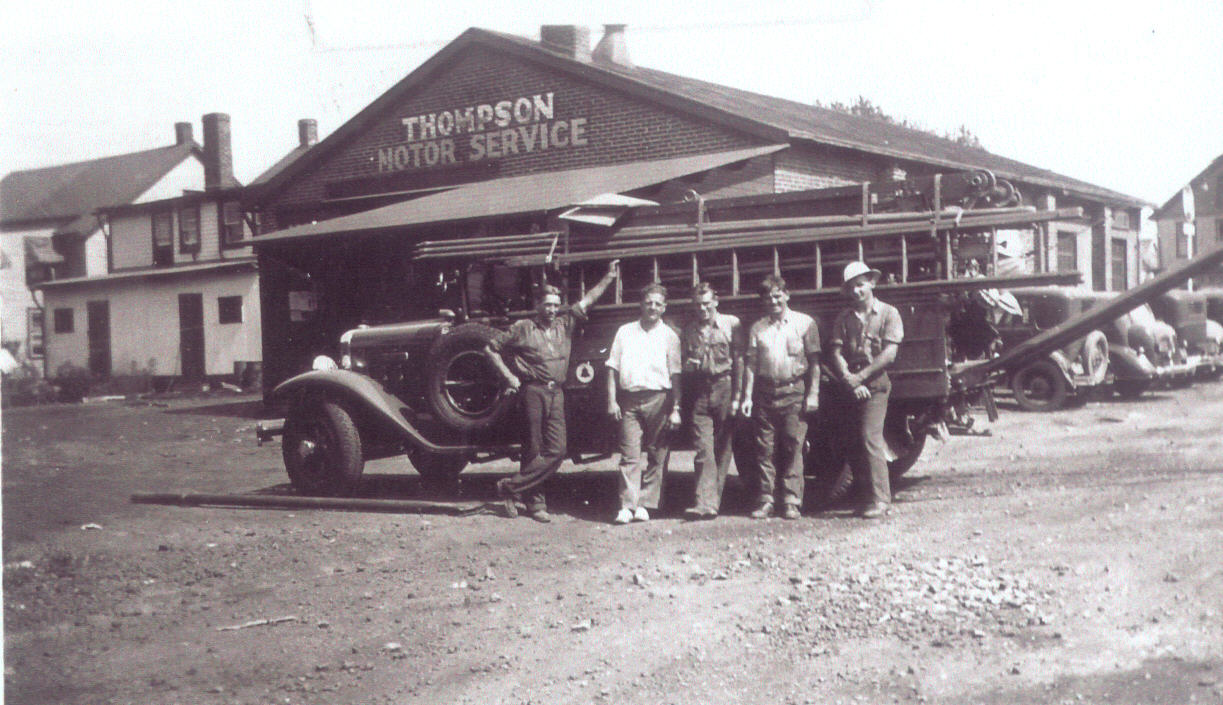 A Bell Telephone crew behind the shop in 1936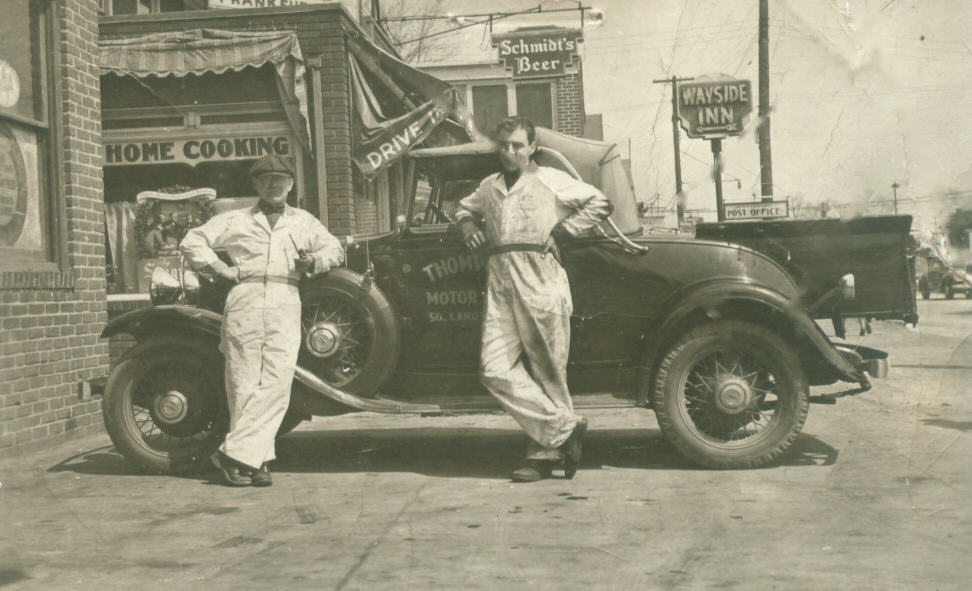 George and an employee in front of the shop in 1941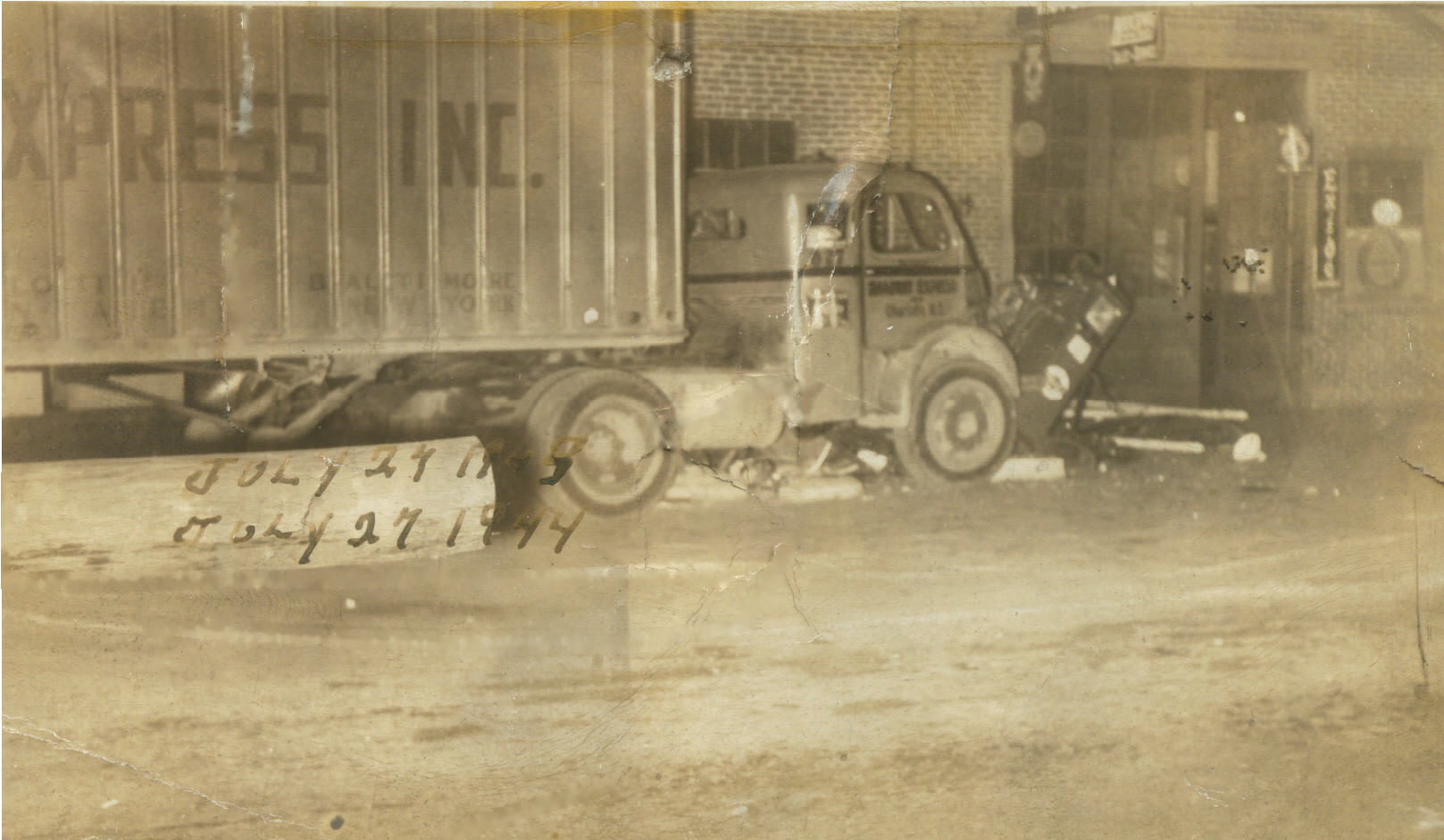 Amazingly, a truck crashed through the gas pumps on July 27, 1943 and again
exactly one year later on July 27, 1944. This photo is from the 1944 crash.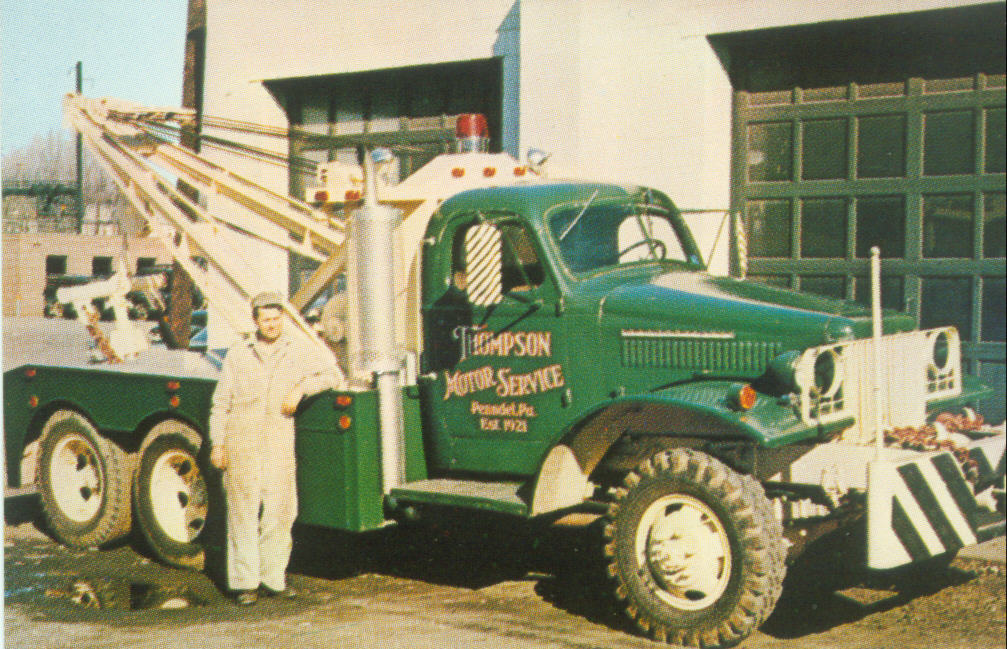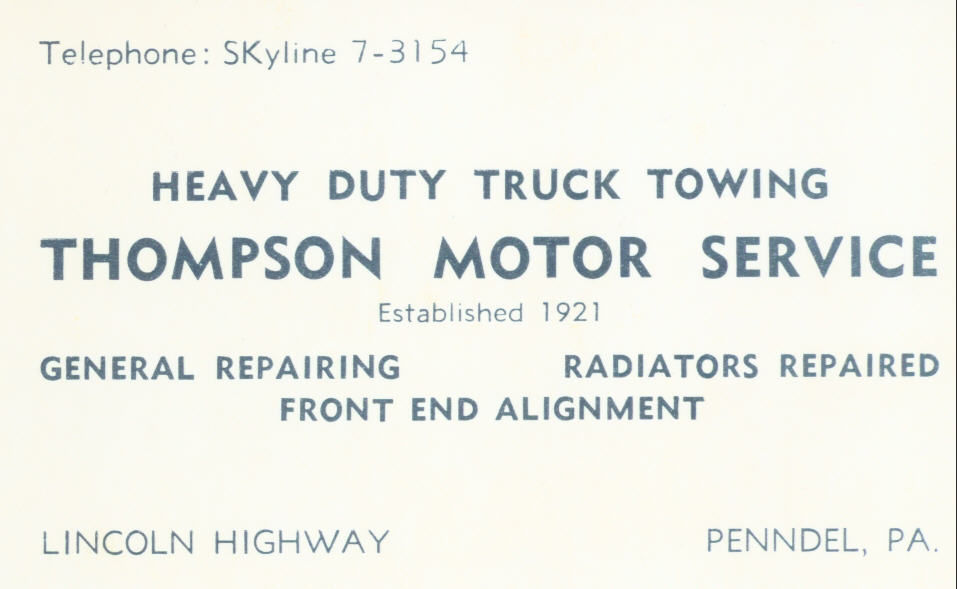 This is the front and back of the TMS Business Card
from the late 1960's with a photo of Bob Thompson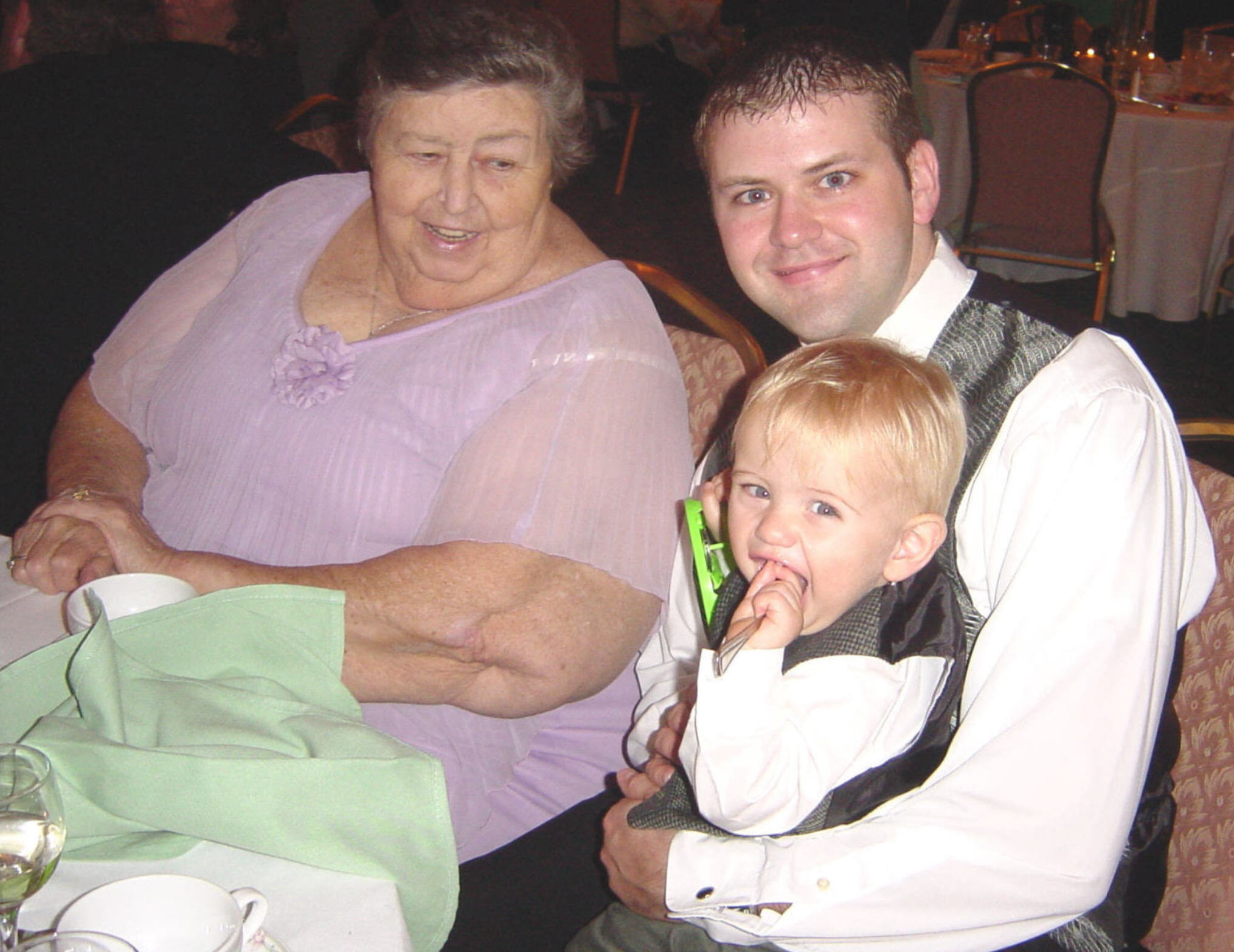 Thompson Motor Service generations 2, 4, (and maybe 5!)
are represented in this 2005 photo of Mary, Len, and Michael
---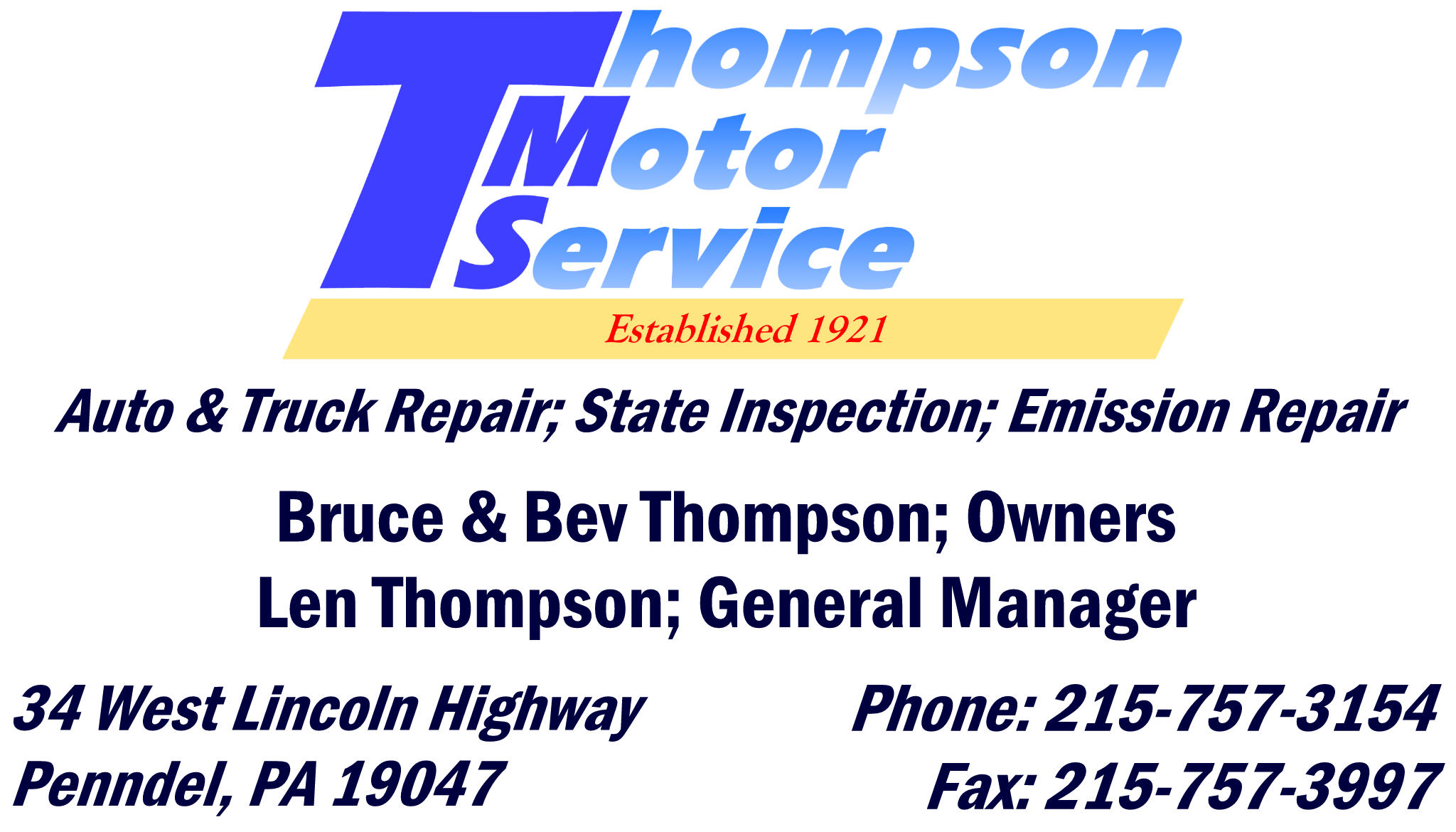 Hours of Operation:
8am to 5:30pm on Monday, Tuesday, Thursday, Friday
8am to 8pm on Wednesday
Closed on Saturday and Sunday
---
Home HISTORY Directions Our Team Towing Services Thompson Motorsports Contact Us
---